Dementia
Key Message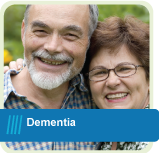 Dementia is a significant issue for people in Scotland. It is a condition which changes the lives of those diagnosed and of those close to them. There is a recognition that, despite much good work, there are critical challenges and important gaps which must be addressed if people are to receive the services they need.
The resources and education relating to Dementia and Promoting Excellence are currently being migrated to their next home on TURAS.
In the interim, please visit the the main NHS Education for Scotland Dementia Page to ensure access.
What does this mean for the Effective Practitioner?
People with dementia are at an increased risk of physical health problems and as the population in Scotland ages there is the potential for an increase in use of the acute care setting (general hospitals and accident and emergency departments). The effective practitioner appreciates that people can live well with dementia if they receive the right support that aims to build on their own personal resources.
Return to top
Reflection
Remember, recording your reflections is an important part of the learning process. Take time to structure your thoughts, feelings and any future actions on one the forms available in the Reflective Practice section. Click here to visit the page.
In your reflections you could also consider how your learning relates to the Facilitation of Learning, Leadership and Evidence, Research and Development pillars of practice.
Return to top
Supplementary Resources

Promoting Excellence

Dementia Managed Knowledge Network