Food, Fluid and Nutrition
Key Message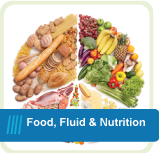 High quality nutritional care is vital for the health and well-being of patients and clients in all service settings. NHS Scotland is committed to providing good nutritional care to service users as part of its drive to deliver person-centred, safe and effective care.
Focusing on just 2 elements of the "Food, Fluid & Nutrition" agenda, the first is the recognition that food is treatment, as malnutrition means for example that wounds will not heal, or the service user becomes immobile and unable to care for themselves and may have to be admitted to hospital or into care. The second element in the "Food, Fluid & Nutrition" agenda is healthy eating as part of lifestyle and being empathetic to personal circumstances when delivering a health promotion message.
What does this mean for the Effective Practitioner?
Nutrition is core to the work of all practitioners. You need to recognise risks of malnutrition and be aware of everything that can impact on the nutritional status of people under your care. This can mean for example people's ability to cook, their mobility, their clinical condition, their financial situation, access to shops, and any religious or cultural needs.
Practitioners should also be aware of healthy eating and lifestyle choices (e.g. alcohol, smoking, exercise) that have an impact on the long term care of service users. You are encouraged to provide an empathetic and consistent health promotion message during each intervention with a patient/client.

You can download a copy of the Food, Fluid and Nutrition learning activities.
Return to top
Learning Activities

There are a number of professions who can support the nutritional needs of service users. These include Dietitians e.g. assessing nutritional needs; Speech & Language Therapists e.g. swallowing assessment; Physiotherapists e.g. posture and mobility; Occupational Therapists e.g. feeding aids; and Nurses and Midwives e.g. delivering nutritional care.

Be proactive when you next encounter some of your professional colleagues and take the opportunity to learn about their role in nutritional care in more depth. Some prompt questions might be:

What is their role in supporting the nutritional needs of patient/clients?
What support do they provide to carers, and family members?
What other members of the multidisciplinary team do they work with?
How could the multidisciplinary team better work together to enhance the nutritional care of patients/clients?

How can you apply what you have learned within your own practice? How can you share this learning with others?

Record your learning in your professional portfolio.

Related KSF core dimensions: communication, service improvement and quality.

Understand the role of nutrition as part of a healthy lifestyle.

Take a proactive approach to helping a patient/client who has commented that they would like to improve their diet. Discuss with them the types of food they eat and where they feel they could make improvements.
Consider what information needs the patient/client has. You may want to go to websites which give evidence based advice e.g. The British Dietetic Association website food facts section www.bda.uk.com/foodfacts/home
Develop your own knowledge of healthy eating guidelines as it may help you to be more effective in advising on changes to diet. e.g. does the diet closely resemble an Eat Well plate to get the balance right:

Plenty of fruit and vegetables;
Plenty of potatoes, bread, rice, pasta and other starchy foods;
Some milk and dairy foods;
Some meat, fish, eggs, beans and other non-dairy sources of protein;
Just a small amount of foods and drinks high in fat and/or sugar.

Record your learning in your professional portfolio.

Related KSF core dimensions: personal and people development.
Return to top
Reflection
Remember, recording your reflections is an important part of the learning process. Take time to structure your thoughts, feelings and any future actions on one the forms available in the Reflective Practice section. Click here to visit the page.
In your reflections you could also consider how your learning relates to the Facilitation of Learning, Leadership and Evidence, Research and Development pillars of practice.
Return to top