Mental Health
Key Message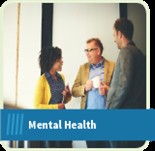 Mental health and wellbeing are not single topics. Mental health is inseparable from physical health and related to all the wider aspects of public health and health inequalities. Self-harm or suicide do not only happen in association with poor mental health and wellbeing, so these are issues for us all.
A major health priority within Scotland is mental health improvement and suicide prevention. 'A Scotland where we all have good mental wellbeing' is a key aim within our national public health strategies. Scotland's Mental Health Strategy outlines a wide range of commitments with the goal of improving the nation's mental health as well as actions guiding how these commitments will be achieved and 'Every Life Matters' highlights the steps we must take to try and reduce suicide within Scotland.
To help us deliver on these national aims, the Mental Health Improvement and Suicide Prevention Framework has been developed. The framework domains focus on the promotion of good mental health, improving quality of life, tackling mental health inequalities, supporting people in distress or crisis, promoting resilience and recovery and preventing self-harm and suicide.

To support practitioners explore and consider the practical implications of the framework and associated strategy a set of animations have been developed. Both the framework and animations can be accessed on TURAS Learn.
What does this mean for the Effective Practitioner?
Mental health is everybody's business. The effective practitioner views the whole person in their care and must consider not only physical, but mental well being. This enables the delivery of holistic care and therefore better outcomes.

You can download a copy of the Mental Health learning activities
Return to top
Learning Activity (MH)


Watch the animations and then work through the framework.

As an individual practitioner or with your team consider:

• How do you and your service promoted and support good mental health and wellbeing?
• What level of knowledge/skills (outlined in the framework) do you or your team require?
• How will you go about developing and/or implementing the knowledge and skills?

Develop an action plan or PDSA cycle to look at how you can consolidate effective practice and/or drive improvements.
Return to top
Reflection
Remember, recording your reflections is an important part of the learning process. Take time to structure your thoughts, feelings and any future actions on one the forms available in the Reflective Practice section. Click here to visit the page.
Return to top
Supplementary Resources

Every Life Matters
Signposts

Mental Health Strategy 2017-2027

Workforce Development Plan